The 5 most important improvements in Google Analytics 4
Google is rolling out the new version of its web analytics platform Google Analytics 4 and is responding to important future topics and changes in the market and user behavior. 
We have summarized the most important innovations the new version brings for users in the following.
1.
Increased integration of machine learning
One of the key innovations in the new GA4 version is the increased integration of Machine Learning, through which Google promises better prediction of customer behavior. This should enable users to make decisions based on data and thus improve their ROI in the long term.
"To help you get better ROI from your marketing for the long term, we're creating a new, more intelligent Google Analytics that builds on the foundation of the App + Web property we introduced in beta last year It has machine learning at its core to automatically surface helpful insights and gives you a complete understanding of your customers across devices and platforms," Google now announced to its users. 
The integrated machine learning allows to recognize trends in the data and thus to better identify, analyze and even predict trends in customer behavior. Users can be automatically notified when changes and trends in the data are detected. In this way, customer needs can be analyzed and future developments can be predicted. 
For example, a forecast of the churn rate or potential sales for a specific target group can help users to use existing resources more efficiently. Marketers can thus anticipate the behavior of different target groups and focus on building stronger relationships with promising customer groups. In addition, users can create target groups for Google Ads and display corresponding content based on the analyzed data. These metrics are designed to help companies increase their ROI.
The Analytics Radar uses machine algorithms to detect anomalies and emerging trends in the data. It also allows the most common questions to be answered quickly.
The focus of the new Analytics version GA4 has shifted more towards a user-centric view. The focus of the reports is now put on the user and his events and no longer on sessions and page views as before. This means that different identifiers are used, for example user IDs provided by the marketer or concrete Google signals for the Web + App properties that users can unlock. This innovation enables marketers to gain insight into how a user discovered the company and whether he or she will make a purchase later. Analysts can track and trace every step of the customer journey, from acquisition to conversion to retention.
In addition, analytics will help to better understand the customer lifecycle with simplified and newly structured reports. From acquisition to conversions to retention. For example, users can see how customers reach the company. Analysis of interaction and customer loyalty based on user feedback can also provide information on whether customers will be retained in the future. This gives marketers a customer-centric and holistic view of how customers interact with their business across multiple channels and devices. In the long term, companies can better understand the complete customer lifecycle and act accordingly. The reports are structured in a way that allows companies to find and interpret the insights more intuitively. Different reports, such as an acquisition report and engagement and retention reports, map the different steps of the customer journey and help marketers take appropriate, customized actions.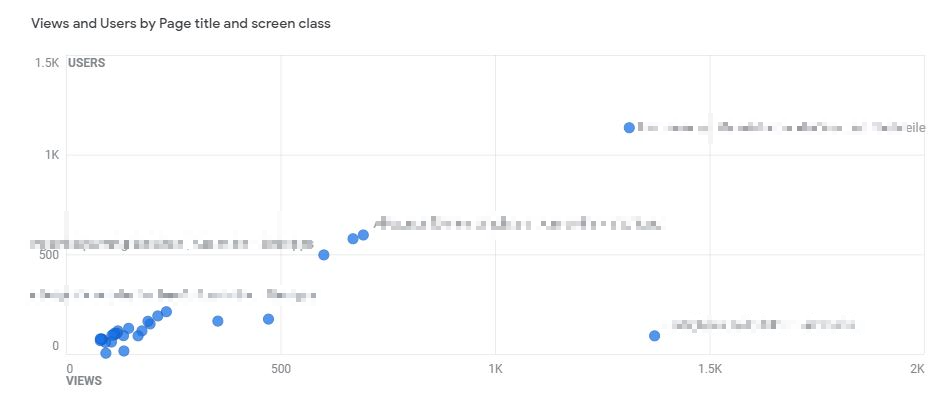 With the scatter chart of users and views, you can quickly find out which content users access most often.
Also new in GA4 are numerous automated events that no longer require manual coding. Many events that previously had to be manually adjusted in the code, such as scroll depth or YouTube video data, are now automatically tracked by the new Google Analytics version. This enhancement to codeless features makes it easier for marketers to track and measure interactions on-site and in-app in real time, without the need to insert code. Additionally, custom events can be created.
The table with the automatically tracked events gives an overview of how users interact with the page.
With this new feature, Google is responding to requirements that a future with strengthened privacy and data protection guidelines will bring with it. With GA4, marketers will have greater control over the use of user data. This data control makes it easier to collect, store and analyze data. 
In addition, the decision can now be made very detailed whether this data should be used to optimize the use of advertising or whether the use of the data should be restricted. 
Users can prohibit the storage of their personal data for Google Analytics when using Google via an add-on. 
"The norm is that we're going to have a mixed set of data: We'll have event data but not necessarily a user identifier associated with it. We'll have gaps in data altogether and this is going to be true of all of all measurement providers", Google announces. 
GA4 is therefore able to use machine learning to fill gaps in data caused by such prohibition, privacy policies or missing third party cookies and other identifiers of marketers. In this way, user interactions can still be used for analysis and user behavior can be assessed. The ability to delete data has also been improved with GA4, allowing companies to delete data at the right time and to the right extent upon request.
5. Combination of Web and App
Another innovation that GA4 brings with it is a stronger integration of app and web in a single view. Even if this feature is not relevant for all users, the benefits of this innovation are not to be neglected. With the new version of Google Analytics, data from websites and apps is aggregated into a common data pool. This allows users that also offer an app to analyze customer data across platforms.
Previously, separate reports had to be created for the website and app, and then manually combined as required.
With the new version of its web analytics tool, Google is reacting proactively and with foresight to future requirements and issues that will have a major impact on its users in the near future. Numerous new functionalities bring great added value on the one hand and make it easier to meet today's requirements on the other hand. We see great potential in the new version Google Analytics 4 and recommend marketers to adapt their setup in the long term. Especially if you also offer an app solution in addition to your website, the new version of Google Analytics has decisive advantages for you and your company. It is also possible to create a Google Analytics 4 property in addition to existing properties. This way, companies do not have to change to the new version immediately and at short notice and can still use its many advantages and innovations. If you need help with the setup of the new property, please contact us at any time.